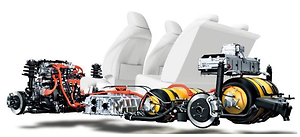 Energy conversion in motor vehicles.
More details
Hide details
| | |
| --- | --- |
| 1 | -, Toyota Motor Poland, Poland |
CORRESPONDING AUTHOR
Submission date: 2020-11-17
Final revision date: 2020-11-30
Acceptance date: 2020-11-30
Publication date: 2020-12-15
Combustion Engines 2020,183(4), 50–57
KEYWORDS
TOPICS
ABSTRACT
The portfolio of the automotive market appears more and more low-emission and zero-emission propulsions in vehicles. This is the result of measures taken to limit or even eliminate the emission of harmful substances into the atmosphere generated by vehicles. The article covers issues related to energy conversion in automotive drive systems currently offered by automotive manufacturers. Standard, hybrid, hybrid plug-in, electric and fuel cells drive system were analyzed. Attention was drawn to the chain of energy transformations related to each of the analyzed drive systems. The efficiency of the presented vehicle drive systems was analyzed. General conclusions were formulated regarding the method of analyzing energy changes related to the operation of automotive propulsion systems. The article reviews selected author's own works on hybrid and hydrogen propulsions.