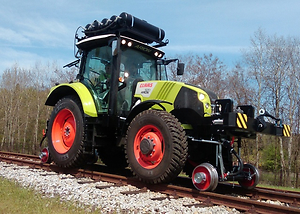 New rail-road tractor with a combustion engine and an alternative electric drive
More details
Hide details
| | |
| --- | --- |
| 1 | Department of Quality Control, Sieć Badawcza Łukasiewicz - Instytut Pojazdów Szynowych "TABOR", Poland |
| 2 | Department of Freights Wagons, Sieć Badawcza Łukasiewicz - Instytut Pojazdów Szynowych "TABOR", Poland |
| 3 | Director, Sieć Badawcza Łukasiewicz - Instytut Pojazdów Szynowych "TABOR", Poland |
| 4 | Electrotechnical Department, Sieć Badawcza Łukasiewicz - Instytut Pojazdów Szynowych "TABOR", Poland |
CORRESPONDING AUTHOR
Sylwin Tomaszewski
Department of Quality Control, Sieć Badawcza Łukasiewicz - Instytut Pojazdów Szynowych "TABOR", Warszawska 181, 61-055, Poznań, Poland
Submission date: 2020-08-06
Final revision date: 2020-09-13
Acceptance date: 2020-09-14
Publication date: 2020-09-30
Combustion Engines 2020,182(3), 47–53
KEYWORDS
TOPICS
ABSTRACT
The paper presents the general concept of an innovative rail-road tractor solution. The innovation of the solution is characterized by equipping the combustion engine tractor with an additional electric drive for the wheels of the rail drive system. The options of using the tractor in operation along with rolling stock were presented. The results of preliminary conceptual work on the selection of electric propulsion and energy storage devices to power electric motors has been illustrated. Directions for further conceptual and design research were also determined. The aim of the paper is to popularize the results of the performed research work carried out at the Institute in the field of rail-road vehicle development.
1.
ANDRZEJEWSKI, M., PIELECHA, I., MERKISZ, J. et al. Modern drive systems of rail vehicles. Combustion Engines. 178(3), 76-81, 2019.
https://doi.org/10.19206/CE-20...
.
2.
BIAŁAS, A., ROSSA, R. Napęd elektryczny E-KIT dla miejskiego samochodu osobowego. Napędy i sterowanie. 9, 2014.
3.
BRYK, K., ŁUKASZEWSKI, K., MEDWID, M. Symula-cyjne badania bezpieczeństwa ruchu ciągnika szynowo-drogowego CLAAS ARION 620. Międzynarodowa Konfe-rencja Naukowa TRANSPORT XXI WIEKU. Arłamów 2016.
4.
DĄBALA, K., DUDZIŃSKI, J. Napęd bezpośredni w po-jazdach samochodowych – przegląd konstrukcji. Praca In-stytutu Elektrotechniki. 260, 2012.
5.
MEDWID, M. Hybrydowe pojazdy kolejowo-drogowe zaprojektowane i wytwarzane w Polsce. Technika Transportu Szynowego. 7-8, 2005.
6.
MEDWID, M., DASZKIEWICZ, P., CZERWIŃSKI, J. et al. Rail-road tractor with diesel-electric drive. Rail Vehicles. 3, 2019.
7.
MEDWID, M., JAKUSZKO, W., KAZIMIERCZAK, E. Structural features of the tractor selected for adaptation to the new road-rail vehicle. Rail Vehicles. 3, 2017.
8.
MEDWID, M., STAWECKI, W., CZERWIŃSKI, J. et al. Structure modeling of the CLAAS ARION 620 road-rail shunting tractor. Rail Vehicles. 2, 2017.
9.
MEDWID, M., STAWECKI, W., CZERWIŃSKI, J. et al. Multi-purpose rail-road tractor of the new generation. Rail Vehicles. 3, 2016.
10.
SINGH, K.V., BANSAL, H.O., SINGH, D. A comprehen-sive review on hybrid electric vehicles: architectures and components. Journal of Modern Transportation. 27, 77-107, 2019.
https://doi.org/10.1007/s40534...
.